Kataifi with Honeyed Pumpkin and Yogurt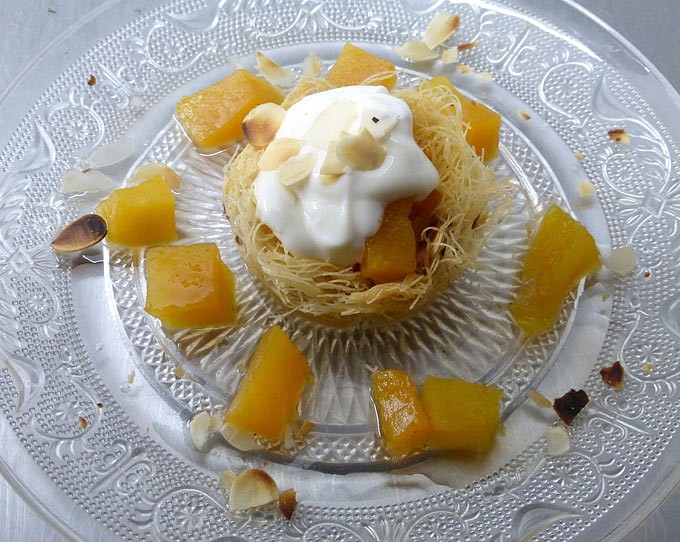 This Turkish-inspired, modern, Greek dessert features kataifi - a seductively crisp, Middle Eastern shredded phyllo dough.
Ingredients
1 1/2 cups Greek strained yogurt (400 g)
1 cup plus 1 1/2 tablespoons honey
2 cups water
1/3 cup granulated sugar
3-4 strips fresh lemon zest
3 tablespoons fresh lemon juice
1 teaspoon cinnamon
800 g sugar pumpkin or butternut squash, peeled, halved lengthwise, seeded, and cut into 1 ¼ cm cubes (4 cups)
3/4 stick (6 tablespoons) unsalted butter, melted and cooled slightly
3 tablespoons confectioners (icing) sugar
115 g kataifi (shredded phyllo dough) from a 450 g box, thawed
1/2 cup sliced almonds (60 g), coarsely chopped
Special equipment: a nonstick muffin tin with 12 (1/2-cup) muffin cups
Directions
If you cannot find Greek strained yoghurt, drain yogurt in a sieve lined with a dampened paper towel or coffee filter and set over a bowl 1 hour, then discard liquid and stir drained yogurt and 1 1/2 tablespoons honey together in a small bowl until honey is dissolved.
While yogurt drains, bring water, granulated sugar, lemon zest and juice, cinnamon, and remaining cup honey to a boil in a 3- to 4-quart heavy pot over moderately high heat, stirring until sugar is dissolved, then add pumpkin and bring to a boil. Reduce heat and simmer pumpkin, covered, until tender but not falling apart, 15 to 20 minutes. Transfer pumpkin to a bowl using a slotted spoon, then boil syrup until reduced to about 1 1/2 cups, 5 to 8 minutes.
Put oven rack in middle position and preheat oven to 180°C. Stir together butter and confectioners sugar until combined well. Gently pull apart strands of kataifi in a large bowl to loosen, then toss with butter mixture and almonds until coated well. Divide kataifi among 12 muffin cups and press into bottoms and halfway up sides of the muffin cups, creating nests. Bake kataifi until the outsides are golden, 12 to 18 minutes (check by gently lifting one out of a muffin cup with a paring knife or small offset spatula), then cool completely in tin on a rack. Transfer kataifi nests to serving plates. Just before serving kataifi, spoon about 1/3 cup pumpkin into each nest, then drizzle each with about 1 1/2 tablespoons syrup and top with a tablespoon of yogurt.
NOTE: Yogurt can be drained 1 day ahead and chilled in an airtight container.
Pumpkin in syrup can be cooked 3 days ahead and cooled completely, then chilled (together) in an airtight container. Bring to room temperature before proceeding. Kataifi nests can be made 1 day ahead and kept in muffin tin, covered tightly with plastic wrap, at room temperature.