List of products by manufacturer AFOI KASSAKIS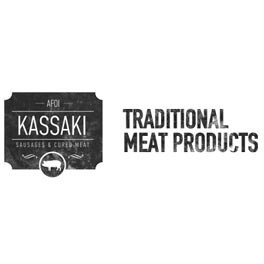 G. KASSAKIS BROS. Ltd. has been active since 1999 in the area of smoked traditional Cretan meat products, but the company has been in existence in some form or another going back many generations. The company is located in the village of GALATAS of Minoa Pediada Municipality. In the early 20th century, their great grandfather George Kassakis, who came from the Lassithi plateau with the genuine traditional Cretan recipes, dealt with the production of sausages, making them available in the surrounding villages.
Their grandfather Emmanuel Kassakis, continued the family tradition, distributing their products throughout the Municipality of Heraklion and beyond. Their father George Kassakis, who is a teacher by trade, realized the needs of the modern consumer and built a permanent building adhering to all the modern health standards. The tradition continues these days as the company has been taken over by the current generation- Emmanuel, who is a graduate of the Agricultural University of Thessaloniki in Food Science and Technology.
No products for this manufacturer.